FILLY/KID CARRIER DOG PERCH BACKPACK (Up to 25 lbs)
Based on our famous Tough Traveler child carrier backpacks, designed for wonderful comfort since 1983. Tough Traveler understands and executes backpack comfort - for people & for dogs!
SPECIFICATIONS:

Primary use:
DOG CARRIER BACKPACK FOR HIKING & AROUND TOWN
Adult fit range:
5' to 6'
Total Load Limit:
50 lbs.
Dog Size Limit:

 

Weight:
4 lbs 8 oz.
Maximum Waistbelt:
48"
FEATURES FOR YOUR DOG:
• Flat foam bottom allows your dog to sit in a natural position, similar to sitting on a firm arm-chair with front paws on the edge of the arm.
• Five-point safety harness holds the dog in the carrier securely, and clips to collar or dog's harness
• High padded sides with cut away front, allowing your dog to rest his feet on the edge, and see out fully
FEATURES FOR YOU:
• Control straps fine-tune load distribution between your shoulders and hips.
• Sternum strap distributes the load and eliminates under-the-arm pressure.
• 1/2" thick padded shoulder straps & 5" wide, 3/4" thick hip belt have sturdy foam to cushion load and absorb shock.
• Mesh back band provides cool back support
• 'Trampoline'-mounted, contoured belt enhances freedom of movement, allowing normal hip rotation while you walk.
• Detachable under seat storage duffel, big enough for sweater, dog dish, treats, and other useful items.
• Tubular aluminum loading stand opens out for stability, folds back when in use.


"Basil is enjoying trouble free travel now. Thanks Tough Traveler!" - Michael Carter, UK
Photo courtesy Michael Carter
"I recently purchased the Kid Carrier...and Dog Perch. I absolutely love the entire set. (And so does my dog.).... Thanks for making such a great product!"- Marge Tretter
---
Available in two versions: the "Kid Carrier" with standard padding, and the "Filly" with extra-thick, 1" padding in the (human) waistbelt, shoulder straps, and lower back area.  Select the "Kid Carrier" for medium usage and light hiking.  Select the "Filly" if you plan to do all-day hikes, if you hike on rough terrain, or if you prefer extra back padding in your technical backpack!

A true technical hiking-quality backpack with our great suspension system, supportive frame, load-control & sternum straps, and other features so you can be comfortable while carrying your dog.  We've been pack makers since 1970, and our backpacks have been to Everest and back!
Allows most dogs to sit in a more comfortable "armchair" position instead of being squeezed into a sack or forced to sit in a vertical posture.
The only framed dog carrier backpack that is made in USA. We design and manufacture with superior workmanship and quality materials for comfort, convenience, and durability.
The Dog Perch comes in

 

seven sizes for the best fit for you and your dog,

 

so please check the specs and sizing to find the best option.  For personal assistance, please email us at

 

service@toughtraveler.com or call us at 1-800-468-6844.  We will help you find the right fit!
Please see the

 

comments and photos

 

other customers have sent us to see the pack in action in the real world!  
SEE ALL SIZES:
Customer Reviews
11/20/2021
The one to buy!
This dog backpack is absolutely the one to buy if anyone has a dog that needs to be carried! It is pricey compared to other kinds but it is exceptionally well made and is the most comfortable, natural way to carry your furry friend. It sits perfectly on my body to balance the weight and my dog loves the comfortable riding position she is in. Thank you for bringing this to the doggie world!
Diana S.

United States
09/07/2020
Happy camper in the backpack - pooch loves his pouch!
My dog loves it! I tried another model from another manufacturer that wasn't stable enough for me or my dog, so returned it. I needed something I could easily get him into and with stable waist bands and support for me. I'm 5'5, female, 134 libs and my pooch is 25 lbs. With him on my back its a good workout for hikes. We are both happy campers. :-) Thanks so much!
Nancy B.

United States
08/22/2023
Excellent product
Adjusting the straps to ensure my pup is comfortable is still a bit challenging, but once he is in and comfortable, he and I both are happy hikers.
Theresa L.

United States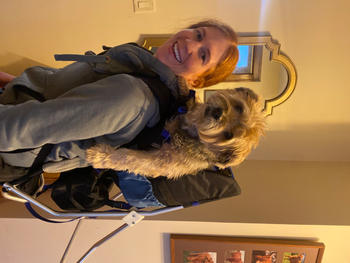 04/03/2022
Great but didn't work for us
First the pack is amazingly built. I would highly recommend. It also is very comfortable on. Our dog is 22 pounds and shaped like a tator tot. I think he would have been happier with one size up. We ended up returning it due to the fact we wanted it for a trip and the weather was so bad we never got around to using it. When the time comes, I will order the pack again in the next size up. Great customer service communication and great product. Highly recommend. 10000% better than other dog packs around.
Nicole R.

United States
11/23/2020
So far so good
We haven't had a chance to use it yet but it looks like it should work. We'll probably add some padding for our old pup. Looks well made and I love the majority of the weight going to my hips.
Barbara M.

United States