LAPTOP INSERT DB
Specifications:

Dimensions: 14.5"w x 11"h x 2"d
Capacity: 16" laptop
Features:
• Padded on all sides for full protection
• Closes with extra-secure lid; 4" overlap provides superior protection against slipping and double layer of protection at top
• Detachable, adjustable shoulder strap
• Dual carry handles
• Flat open pocket on front
• Cell pocket on front secures with Velcro flap
• Strong, durable 1000 d. Cordura material with re-enforced faux-leather corners
• Washable. Water-resistant
• 100% USA-made by Tough Traveler, manufacturer of high-quality bags since 1970!
Shipping:

Typically ships in one business day. Expedited & international shipping available. 

Learn more about our manufacturing at About Tough Traveler!
Customer Reviews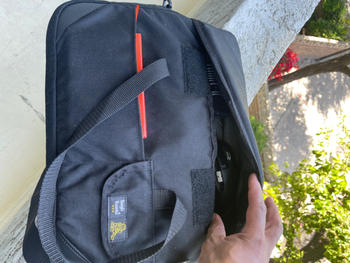 07/25/2023
Great Slim Laptop Bag
I purchased the all black bag for my work laptop: 12 5/8" x 8 1/4" x 7/8". The bag is cushioned on all sides and slim designed. I am able to fit my pencil bag (Tough Traveler too, all black, double stitched zipper (special order)) inside the bag, on side one side. Also, my computer adapter and mouse easily fit on the top side of the bag (again, all sides of the bag are cushioned). Lastly, I requested a 1 1/2" wide strap since I'm a bigger guy: the fit looks/ feels more proportional. I can fit a slim book for notes in the front narrow pouch and keys/wallet in the secured front pocket.
Chris D.

United States
08/16/2021
Best computer case ever - and totally made in USA
This computer bag is more than I actually hoped for. Its sturdy, light, very attractive and highly functional.I love it and I love the commitment by Tough Traveler to making this from start to finish in America, with local jobs and local commitment.
Ellen F.

United States