DOG PERCH SEAT
This special seat is designed to be added to our baby backpacks, to allow you to carry your small dog comfortably. Easily converts any Tough Traveler® child carrier to a great Dog Backpack!

• Fits small dogs, up to 28 lbs. (depending on the size of your carrier seat!)
• Clips attach the carrier's child safety harness to your pet's collar.
• Installs easily, without tools (just strap it in!)
• Fits all Tough Traveler child carriers, and may fit other brands as well
• Material: Sturdy, lightweight Packcloth, with foam seat to support dog.
Customer Reviews
12/04/2021
Beth C.

United States
This was perfect for our short legged dog
Incredible customers service. I had to call several times and was met with kindness and over the top service.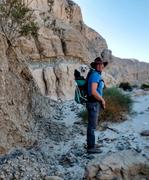 02/05/2021
Jenna B.

United States
This is exactly what we needed!
I have an older pug mix and live in Colorado - that means lots of miles and an old girl just can't keep up. I had an older Kelty kids pack that I just dropped this into and it is PERFECT. She absolutely loves it and can't wait to have her with us for all the adventures!